During these days, when many of us struggle with illness, death, violence, pandemics, natural disasters and uncertainty. At B'nai Maccabim we believe that prayer supports and helps strengthen both our physical and spiritual being.
Our prayer group comes together, united in faith to bring before HaShem- our prayers of thanksgiving, as well as our needs.
Our goal is to stand in the gap with those who feel they need our support, and to share our belief that HaShem listens to us and answers our petitions according to his sovereign will. But most importantly to remind each other that better days are to come, and we are certain that good always triumphs over evil.
If you need prayer, please contact us with your prayer request.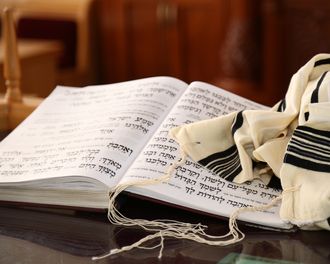 L-RD, hear my voice when I call, be gracious and answer me, You said of my heart, "Seek my face." L-RD, I will seek you face.
Psalm 27:7-8
"L-RD, the G-D of Israel, there is no G-D like you in heaven above or on earth below—you who keep your covenant of love with your servants who continue wholeheartedly in your way.
When your people Israel have been defeated by an enemy because they have sinned against you, and when they turn back to you and give praise to your name, praying and making supplication to you in this temple, then hear from heaven and forgive the sin of your people Israel and bring them back to the land you gave to their ancestors.
May your eyes be open to your servant's plea and to the plea of your people Israel, and may you listen to them whenever they cry out to you."
Solomon's Prayer
"I pray the G-D of our L-RD Yeshua The Messiah, the Father of glory, may give to you the spirit of wisdom and revelation in the knowledge of Him, the eyes of your understanding being enlightened, that you may know what is the hope of His calling, what are the riches of the glory of His inheritance in the saints, and what is the exceeding greatness of His power toward us who believe, according ti the working of His mighty power which He worked in Messiah when He raised Him from the dead and seated Him at His right hand in the heavenly places, far above all principality and power and might and dominion, and every name that is named, not only in this age but also in that which is to come."
Ephesians 1:17-21